GrubHub, Seamless Merge; Mobile Drives Food Ordering Growth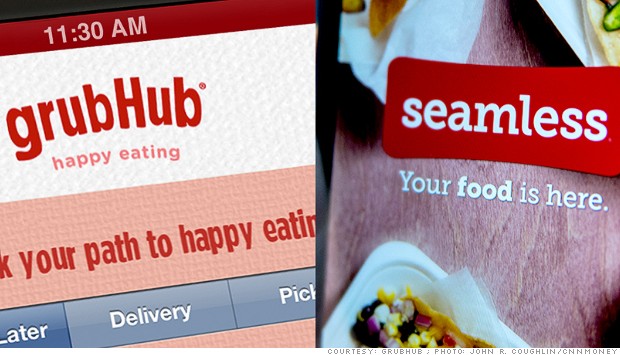 Photo: CNN
Online restaurant ordering and discovery giants GrubHub and Seamless have agreed to merge their operations, creating a single company. Chicago-based GrubHub currently serves more than 20,000 food ordering establishments in 500 cities, while New York-based Seamless serves more than 12,000 food ordering establishments in 400 U.S. cities plus London.
GrubHub CEO Matt Maloney, who co-founded the company in 2004, keeps the CEO job. Seamless CEO Jonathan Zabusky becomes president. Zabusky recently came on to spin off the operation from Aramark, the corporate catering giant.
The two companies had been going head-to-head in a number of their markets. Both share a vision of the food ordering business being rapidly transformed via smart phone.
We had an extensive discussion with Zabusky in March. At that time, he noted that Seamless had two million regular users and grossed $85 Million in topline revenues in 2012. It projects $100 million in top line revenue in 2013, with major growth seen in coming years.
The company has had a strong foothold in the corporate market, providing food ordering and delivery to law firms, tech firms and investment houses. But its major effort has been focused on the consumer side, which has been experiencing year-over-year growth of 60 percent.
The company has 300 people in three major offices, as well as field based sales. While it is best known for its strong business in Manhattan, where it recently opened a 28,000 square foot facility,, Zabusky notes that the company has a strong presence in 13 major U.S. markets. He added that Seamless had "a major national expansion strategy," and was well-situated to execute it with a customer care center in Salt Lake City.
The key to growth, said Zabusky, was to keep selling new products and features to its food establishment partners. "We don't make money unless they make more money."
Zabusky noted that Seamless has been processing electronic order forms, and providing electronic terminals. plus table side ordering apps. Generally, its focus is to move restaurants away from fax machines, and away from phone calls and paper, which he says remains the segment's biggest competition.
With Seamless, restaurants move up to a "multi-platform portal," where they could "view, confirm and track orders," he said. Restaurants also leverage Seamless and its vast network for discovery and retention. For instance, it offers different deals on different days to keep customers coming back. "It is very different than the daily deals space," he said.
The industry's transformation via mobile, however, is expecially key. Zabusky says it represents 40 percent of the total business, up from 10 percent a year ago. But for online food ordering, mobile doesn't just represent a phone. The company's best customers use the PC-based Web, phones and tablets, he says. "Thirty percent of the mobile volume comes from the iPad."
After the merger is completed, major competitors for the combined company will include Living Social, which has recently bet big on online food ordering; Delivery.com, which claims a roster of almost 10,000 restaurants in 50 cities; and Eat24.com, which covers 20,000 restaurants in 1,000 cities across the country.