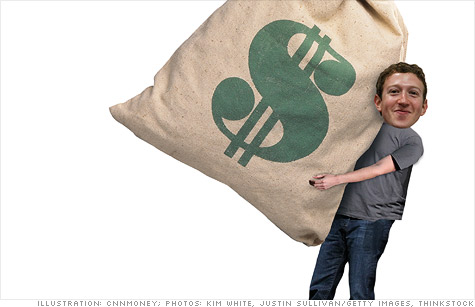 via CNN
If anybody wonders whether the considerable "legs" of Facebook justify a valuation now set for $83 billion, have a listen to a terrific BIA/Kelsey webinar on Facebook's IPO, featuring Trada CEO Niel Robertson Wildfire CEO Victoria Ransom and Plink Cofounder Peter Vogel (and BIA/Kelsey analysts Jed Williams, Matt Booth and Jeanne Dattilo).
People have to understand that "Facebook is more than advertising," said Trada's Robertson. "It is a platform that takes people through the digital marketing funnel. It lets you acquire prospects and move them through the different stages," he said.
It will be more of a challenge over time as Facebook moves its client relationships down scale from the giant brand companies to mid-market brands and SMBs. Creative is really hard at those levels. But the basic idea of collecting fans is a winner all around. "It's like collecting email addresses you can use over and over again," he said. "Fans amplify your own message."
Wildfire's Ransom said most of the trends for Facebook in social media are very positive. "There was a lot of anxiety from businesses about the Timeline," she noted. But Wildfire studies show that Timeline has proved to be a smashing success, with a 22 percent jump in photo sharing, and a 90 percent jump in video sharing.
The challenge for Facebook is get beyond the sheer quantity of Facebook friends. "How do you engage them? Who are the right fans? The valuable fans?" asked Ransom. Facebook is getting better and better coming up with answers. And "there are more tools coming out."
Plink's Vogel, meanwhile, noted that Facebook watchers are looking for signs that the company will break out big in transactions and payments — an area enabled by its games-based Credits feature. It hasn't happened yet — perhaps because of Facebook's 30 percent "tax" on transactions performed via credits.
Vogel, however, expressed confidence that the transactions and payments space will soon break out. The company is known for constant adjustment until "it gets things right," he said.
If Facebook does get transactions and payments right, that "will be more than enough to justify its valuation," added BIA/Kelsey's Matt Booth. Facebook is "the biggest website that's ever existed," said Booth. Indeed, classifying it as a 'website' is misleading since the company encompasses so many things — and will encompass even more as it begins to buy a lot of companies to round out its offerings. "The entire U.S. display market won't sustain Facebook," he said.
BIA/Kelsey's Jed Williams said one of those forms will inevitably be an ad network — an 'AdSense' for social," he called it. Williams also predicted that Facebook will march quickly into the deals and offers space. It will introduce a new offers tool for managed service accounts such as Macy's and extend down market, he predicted. Mobile is another mega-opportunity, although a risk as well since it hasn't yet been monetized.
BIA/Kelsey's Jeanne Dattilo, a BIA/Kelsey valuation expert, said signs were very good for Facebook's valuation to hold up. She noted that Facebook's EBITDA of 56 percent last year has got to be considered "really impressive." Google was in the mid-30s; Yahoo was in the mid 20s.
Listen to a replay of the webinar here.